What is Content Optimization?
If you've done any digital writing, you've probably heard about content optimization. But what does that mean?
Content optimization means writing your content so that it will rank well in search engines. When content is optimized, it shows up higher on search engine results pages (SERP.)
That's because search engines like Google use "spiders" to crawl digital content. The aim is to see what the content is all about.
Things like titles and keywords indicate the topic. Then sentence structure, optimized images, external and internal links, overall length and readability determine content quality.
The better the content quality, the better its chance to rank.
Why is Content Optimization Important?
When people use a search engine, they're trying to find information. Maybe they're trying to answer a question, or they're looking for a place to eat, or they want to hire someone for a particular service.
When Google delivers the results of that search, the highest quality content shows up first.
Why does that matter? Because a study of billions of search results showed that over 25% of people click the first Google result.
That click means more organic (non-paid) traffic, and more potential leads. Leads are the seeds from which your business grows.
An effective SEO marketing strategy will aim to get digital content into the top 10. The top 3 is even better. And when your content hits the number one spot, that's the equivalent of reaching the Holy (Organic Traffic) Grail.
The Write Stuff: SEO Content Optimization Basics
Now that we've shown how search engine optimization helps users find your content, you might be wondering how to do it.
While there's no magic formula for SEO content writing, there are certain known standards that significantly increase your chances of ranking.
The key areas for content optimization include:
Readability
Readability is how easy it is for a reader to understand your text. But how is that determined?
Let's break it down.
Flesch Reading Ease
Most online assessment tools use the Flesch Reading Ease score formula.
The formula for English is as follows:

The higher the page score, the easier it is to read. This is especially important as most people scan web pages versus reading all of the content. Easier to read means easier to scan and will help reduce your bounce rate.
90 – 100: 5th grade. Very easy to read. Easily understood by an average 11-year-old student.
80 – 90: 6th grade. Easy to read. Conversational language for consumers.
70 – 80: 7th grade. Fairly easy to read.
60 – 70: 8th or 9th grade. Plain language. Easily understood by 13- to 15-year-old students.
50 – 60: 10th to 12th grade. Fairly difficult to read.
30 – 50: College. Difficult to read.
10-30: College graduate. Very difficult to read. Best understood by university graduates.
0-10: Professional. Extremely difficult to read. Best understood by university graduates.
SEO best practices indicate you should aim for a score of at least 60. This is considered "plain language" and understood by most web page visitors.
However, it's also important to consider your industry and your target audience. SEO tools like Semrush will compile a Target Readability Score. This is an average for your Google top 10 competitors.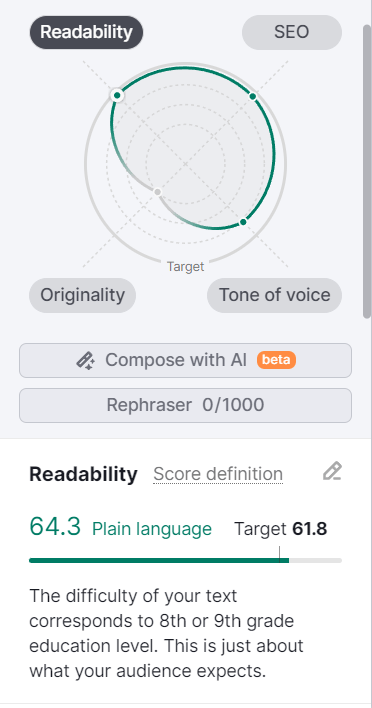 If you're compiling data yourself, just check out your best-performing competitors' websites. If their copy differs dramatically from what you've been using, try elevating or simplifying your language accordingly.
There are several ways to do this:
Sentence Length
Longer sentences are generally more difficult to read. Using shorter sentences makes your text easier for casual readers to consume.
Google prefers to serve high-quality content. High-quality content is both informative and easy to understand. If you're looking to boost your readability score – and your rankings – try to reduce your sentence length.
Yoast offers a free Real-time Content Analysis tool that will tell you if more than 25% of your sentences contain over 20 words.
Paragraph Length
Like sentences, shorter paragraphs perform best with both readers and Google. When creating content, keep your paragraphs to one, two, or three short sentences. They should contain a maximum of 150 words.
Vocabulary
As mentioned above, plain language is essential for good SEO. If your words are easy to grasp, they help improve understanding. That means it's easier for your audience to engage with your content.
"Speaking" plainly also helps boost your credibility. Credibility earns trust. People don't like to feel like they're being talked down to. They want to patronize businesses that "get" them and treat them with respect.
Unless you're writing for a very technical or academic audience, keep your tone conversational.
Transition Words
Transition words help show the reader the relationship between phrases and sentences. They're an effective way of showing cause and effect.
Consider the following example:
A mouse chewed our electrical wires. As a result, the house caught fire.
The phrase "as a result" tells your reader the cause (first sentence) and effect (second sentence.)
In addition to cause and effect, transition words can also show:
Clarification: Phrases such as to clarify, in other words, or that is to say help make your meaning clear.
Contrast: This includes words like however, but, and on the other hand.
Example: For example and for instance represent example phrases.
Emphasis: Most importantly, above all, and certainly emphasize your point.
Enumeration: Enumeration helps show order with words like additionally, firstly, and further.
Time: Words like meanwhile, subsequently, and during provide context cues about timing.
Similarity: Likewise, similarly and correspondingly can illustrate how things relate to each other.
Summarization: When you need to summarize a long text, phrases such as in short and to sum up provide clarity.
Transition words help structure your text. They also make it easier to read and understand. For maximum readability, around 30% of your sentences should contain a transition word.
You can learn more about transition words and how to use them here.
Tone of Voice
You've probably heard the expression "It's not what you say. It's how you say it."
Using the appropriate tone is an important part of effective communication. Even when words are written instead of spoken, the way you put them together matters.
When search engines crawl your content, they will score your text from very causal to very formal.
For example, consider this infamous children's song:
Three blind mice. Three blind mice
See how they run. See how they run
They all ran after the farmer's wife
Who cut off their tails with a carving knife
Did you ever see such a sight in your life
As three blind mice?

Three decrepit rodents. Three decrepit rodents
Observe how they motivate. Observe how they motivate
They all pursued the agriculturist's spouse
Who cut off their appendages with a culinary cleaver
Have you ever witnessed such a phenomenon in your existence
As three decrepit rodents?

Three myopic rodents. Three myopic rodents
Observe how they perambulate. Observe how they perambulate
They all circumnavigated the agriculturist's significant other
Who amputated their extremities with a carving utensil
Did you ever observe such an occurrence in your existence
As three myopic rodents?
As the verses go on, they become increasingly complicated and formal in tone.
When writing for SEO, a neutral tone of voice is appropriate in most instances. However, there are a couple of things to consider for content optimization.
Know Your Target Audience
WHO you are writing for is just as important as WHAT you are writing.
For example, if you're writing content meant for an IT audience, you don't want to sound like you're gossiping with your neighbor over the backyard fence.
Conversely, if you're too formal when discussing The Five Best Shades of Lipstick for Spring, you probably won't connect with your audience.
Research how customers or clients already talk about your service, product, or brand, and try to meet them where they are.
Know Your Brand Voice
Your brand voice is the way your brand communicates with clients and customers. It reflects your brand persona, which stems from your brand archetype.
Keeping your brand voice consistent is an important aspect of maintaining your brand identity. Consumers appreciate consistency, which helps build trust.
That's why it's important for copywriters to understand the brand for which they're writing. Every brand has a way of presenting itself to their target audience. Even if they're in the same industry, that process can differ dramatically.
Let's consider the medical spa industry.
You own a medical spa, and your brand archetype is The Magician. Your brand strategy should reflect the magic of what you offer. Transformation! A grand experience! You're the brand that makes a customer's dreams come true.
However, let's say your brand archetype is The Caregiver. You would want to show consumers, through imagery and tone, how you can help them. Compassionate, caring, and worthy of trust, The Caregiver understands problems and offers a healing solution.
Or perhaps your brand is The Sage. Wise and reliable, you offer steadiness and relief based on learned wisdom. You reassure clients with subtle brilliance, engendering wellness, relaxation and calm.
Use Relevant Keywords
If the number one SERP spot is the organic traffic Holy Grail, then keywords are the map to get there. But part of the map is missing, so you're going to have to do some keyword research to figure out where to go.
Keywords relate to user searches. They're the words people type into a search engine when they're looking for sites like yours.
Main keywords are the most common words or phrases associated with your industry. For example, if you run a landscaping business, phrases like lawn mowing service near me, landscape design, and landscape services are pretty common keywords.
There are also lots of semantically related keywords like grass, pruning, perennials and garden, just to name a few. These words relate to the main keyword in some way. Google uses them to help determine what your content is about.
In fact, it's one of the main ways that search engines tell whether your content is meant for an audience or purely for SEO ranking.
Using multiple semantically related keywords tells the "spiders" that your content is informative. In other words, it's beneficial for your audience.
Semrush has a Keyword Magic Tool to help you find related keywords to improve your SEO.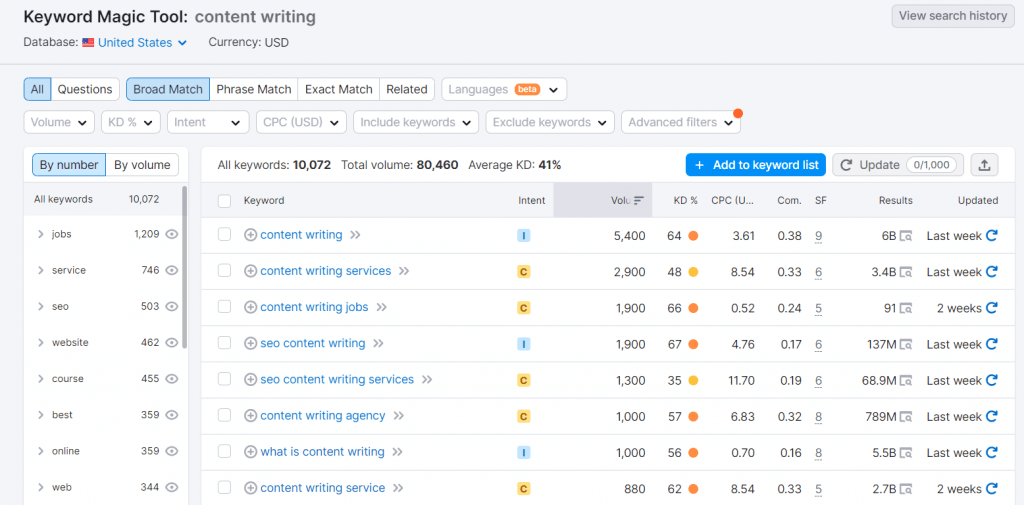 However, there are a few keyword pitfalls to look for.
Avoid Overoptimization
Overoptimization means that you have too much of a good thing. In other words, you have used your keyword too many times, to the point it may sound stilted. It also raises the risk of Google flagging it as unnatural.
SEO professionals have differing opinions, but many content optimization tools indicate you should aim for around 1%.
For example, in a 1,000-word blog, your keyword or key phrase should appear approximately 10 times.
Additionally, most algorithms recognize slight variations of the key phrase. If your target is "chain link fencing," then "chain link fence," will also count.
Limit Your Keywords
If one keyword is good, then lots of keywords are even better, right?
Unfortunately, it doesn't work that way. When content writers and marketers discovered that certain keywords would help their content get pushed to the top of SERP, they began a process called "keyword stuffing."
Keyword stuffing means putting as many different keywords as possible in SEO titles, metadata, and content. That resulted in text that could be confusing or even unreadable for consumers.
Consequently, Google made several changes to their algorithm. Practices like keyword stuffing will get you penalized and downranked. That means your content is much less likely to get seen by your target audience, or any audience.
To avoid angering the Google gods, pick a target keyword or key phrase, check your density, and use plenty of semantically related keywords.
Don't Forget the Metadata
You've written the perfect web page, blog post, or thought leadership article. You know your target audience, hit the right tone with your brand voice, identified the perfect key phrase, and optimized your text. You're done, right?
Well, not quite.
Optimize Your SEO Title
The results you see on a SERP include featured snippets that tell you something about each one. The "headline" part is the HTML title tag, or SEO title. It usually contains the post or page title, as well as the site name.
For content optimization, it should contain your focus key phrase. Optimally, you should use the phrase right at the front. However, you're writing for humans. If it doesn't look right at the front, don't contort the language to make it happen.
The goal of an SEO title is to entice people to click. Awkwardly worded or boring titles won't get the job done.
If your title is too long (in pixels) Google may cut it off. That length corresponds to approximately 50-65 characters. There are several free tools that allow you to see how your title will appear in both mobile and desktop searches.
Choose an SEO-Friendly Slug
The slug is the part of the URL that identifies the specific page you're on. Ideally, it will also explain the page's content.
Slugs benefit SEO by including the key word or key phrase for which you're trying to rank. It also helps consumers narrow their search engine results down.
A non-specific URL isn't informative, and therefore not user friendly. If you want people to click on your page, be sure the slug tells them exactly what they can expect from the content.
Maximize the Meta Description
A meta description summarizes the page's content. It's the information that pops up after the title on a SERP.
This is the first thing people see when they conduct a search, so it's critical to get it right. For content optimization, it should mention the target keyword or key phrase.
Even more importantly, it should be written in a way to entice consumers to click on your result.
You also want to ensure that it doesn't get truncated. Current best practices suggest using a character count of no more than 155.
Yoast offers a free content analysis tool that will give you the green light when you get your meta data just right.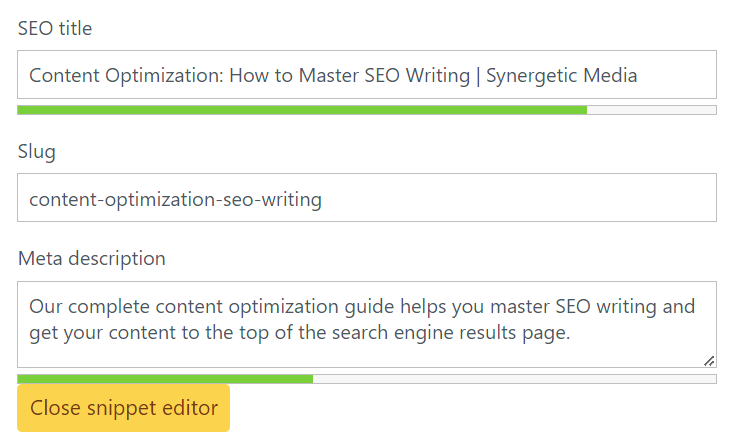 Let's Chat… Bot
AI chatbots are a hot topic these days. GPT-4 passed the Uniform Bar Exam. It also passed the U.S. Medical Licensing Exam. What can't an AI chat bot do?
Well, it can't be human.
A drawback to using AI writing tools is lack of originality. Because AI draws from preexisting data and content, the result can sound generic or formulaic.
With that said, AI can help content writers in various ways. By pulling together vast amounts of data quickly, an AI writing tool can help you produce cleaner content in less time.
They can also help you get "unstuck" if you're struggling with a certain topic. Further, they can rewrite specific sections of your work to improve clarity and flow.
There's a learning curve associated with using AI, and the free tools are usually more limited in their options. However, these are great for editing or revising.
Need Help with Content Optimization and Other SEO Services? Let's Talk!
The team at Synergetic Media is ready to work with you to bring your website to the top of the search results. Give us a call at (770)992-2832!